EX-OFFICIO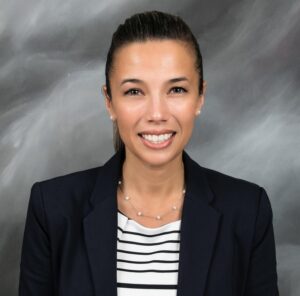 Amy Lin-Rodriguez
Amy Lin-Rodriguez has been a supportive member of the Hudson County community for almost two decades.
As an educator with the Hudson County Schools of Technology since 2001, Amy began her local, professional career always giving back to those in the educational community and recognizing success is driven by teamwork. Initially serving as a Project-based Facilitator for Explore 2000 Middle School, Amy uniquely engaged students' learning through various field experiences and academic support. With her colleagues, Amy joined as a member of the Hudson River Fisherman's Association (HRFA) to ensure her students were exposed to new outdoor science opportunities; she was active with the Youth Angler Program and later served on the HRFA's Scholarship Committee, which provided high school graduates funding for college supplies. Amy became a Curriculum Facilitator and Supervisor for alternative project-based learning academies and with Hudson County HSPA/SAT Extended Year Youth Program, providing summer youth internships and test prep programs at HCST. As a co-founding Supervisor of the North Hudson Park Environmental Academy, Amy with the team helped over-aged middle school students transition into high school. Reassigned as Assistant Principal, then becoming proud Principal of the distinctive Explore 2000 Middle School - Amy cooperatively continued to touch the lives of thousands of children, young adults and families. Notably, she was appointed Assistant Superintendent; then as the first female Acting Superintendent of HCST.
Happily residing in the downtown area with her supportive family, Amy became active with the well-established Hamilton Park Neighborhood Association where she served on the Board and helped co-found the John DeSalvo Garden in Enos Jones Park Playground. Through the collaborative efforts of her neighbors, The Pavonia Avenue West Block Association was created in which she presides as President; they work with local leaders to ensure safety for the growing community within the downtown neighborhood. Amy worked as a mentor with the Sandra and Glenn D. Cunningham Foundation; she supported college students throughout their studies. Amy was named Honorary Puerto Rican Woman of the Year in 2014 by the Jersey City Puerto Rican Heritage Organization when she humbly marched in honor of her former student, Detective Melivn Santiago. She has also been recognized as a Woman of Action 2018 in Jersey City through Councilman Daniel Rivera. Then most recently honored by the Jersey City Rotary's Service to Youth Award. A pleased parent of the Jersey City Public Schools, Amy further supports her son's education and school community as a member of the PTA.