EMERITUS EXECUTIVE DIRECTOR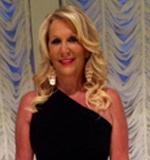 Linda J. Quentzel
Born and raised on Woodlawn Avenue, in the Greenville section of Jersey City, Linda is a Hudson County girl, through and through. Upon graduating from NJCU with a BA in Business Linda began a career at the Hudson County Schools of Technology (HCST) that spans over 35 years. As the current Director of Development for HCST, in 2009 Linda established the HCST Foundation. In her role as the Executive Director the HCST Foundation it has become a vital part of the Hudson County Schools of Technology.
As a non-profit organization, the Foundation works with local industry and educational leaders, as well as alumni, parents, and teachers, to provide financial support for innovative, quality learning initiatives that provide students with memorable, real-world experiences. Linda maintains the philosophy that she doesn't go to work; she goes to school.
Beyond the halls of HCST, Linda is the President of the Condo Association at Creekside Manor in Secaucus. Linda is the President of her company LQ Strategies, LLC started in 2010. In addition Linda is a Trustee on Art House Productions in Jersey City and an Advisory Member of NJCU Arts Council as well as a Big Sister at Big Brothers Big Sisters and Chief Marketing Officer at Martin Albert Interiors in NYC.
Linda is the proud mother of two boys, Evan and Marshall. Evan is a 2012 graduate of Hofstra University, Zarb School of Business. Evan is employed in NYC as a Digital Director at MediaVest the world's third largest communications group. Marshall is a 2010 High Tech alum and a 2014 graduate of Montclair State University, School of Business, Cum Laude recipient with a degree in Accounting. Marshall is a Senior Accounting Associate at Prudential in Newark.
Linda is engaged to Albert Harary, Owner of Martin Albert Interiors in NYC and Emmy Award Set Designer. Linda resides in Secaucus.