BOARD TRUSTEE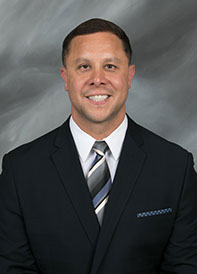 Joseph M. Muniz
Joseph M. Muniz, currently the Board Secretary for the Hudson County Schools of Technology (HCST), has dedicated his career to his community. His acumen in policy-setting, administration and the politics of public service have jettisoned his career and benefited Hudson County in terms of public health, education, and development.
A lifelong resident in the Township of North Bergen, Mr. Muniz has served in a variety of roles for the Township. Beginning as public health investigator, Mr. Muniz eventually worked as Community Service Director before moving on to Executive Assistant to the Mayor and Business Administrator. Within a year of that appointment, Mr. Muniz became the Executive Director of the North Bergen Parking Authority. In addition to these duties, Mr. Muniz presently serves as a political advisor to Senator Nicolas J. Sacco, who is also the current Mayor of North Bergen, and Assembly Speaker Vincent Prieto (D).
In 2005, Mr. Muniz focused his career on education, becoming the Assistant Business Administrator at Hudson County Schools of Technology, where he was swiftly promoted to Board Secretary. In addition to his work with HCST, Mr. Muniz is also the current Chairman of the Board for the North Hudson Community Action Corporation, a position to which he was unanimously re-elected in 2015 to a 3 year term thanks to his ability to revitalize the infrastructure of the organization and allow changes to further provide health and social services to Northern New Jersey.
An alumnus of New Jersey City University, Mr. Muniz holds a Bachelor of Science in Business Administration and Criminal Justice; he has earned certification as a Registered Public Purchasing Official and is a licensed School Business Administrator.
The proud parents of Julianna, aged 13, and Joseph, aged 9, Mr. Muniz and his wife, Deanine, are dedicated to their children and each other. An active parent, Mr. Muniz rarely misses a school or sporting event in which his children participate.